---
---
Inhalt
India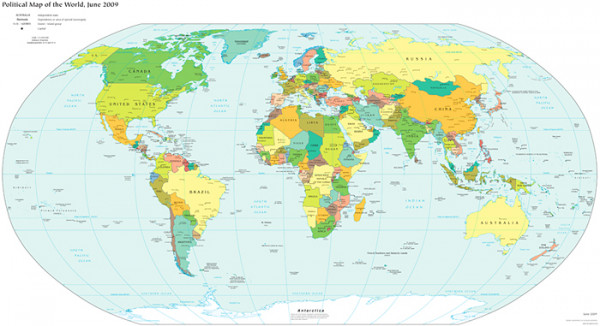 Overview
Flag


Anthem

Satyameva Jayate (Sanskrit)
सत्यमेव जयते (Devanāgarī)
Truth Alone Triumphs

Capital
New Delhi
Largest city
Mumbai
Official language(s)

Demonym

(a name for a resident of a locality, often the same as the name of the people's native language)

Indian
Government
Federal constitutional parliamentary democracy
Area
3,287,240 km2, 1,269,210 sq mi
Population
~ 1,183 million
Currency
Indian rupee (Rs.) (

INR

)
Internet

TLD

.in
Geography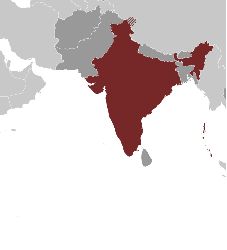 India, officially the Republic of India, is a country in South Asia. It is the seventh-largest country by geographical area and the second-most populous country in the world. Mainland India is bounded by the Indian Ocean on the south, the Arabian Sea on the west, and the Bay of Bengal on the east. The country is bordered by Pakistan to the west, China, Nepal, and Bhutan to the north and Bangladesh and Burma to the east.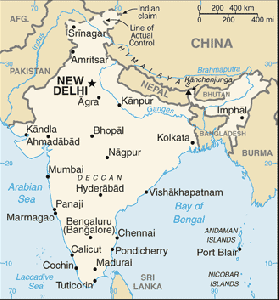 By 2001 there were 35 million-plus cities in India. The largest cities with a population of over 10 million each are Mumbai and Kolkata. The capital city of India is New Delhi which is one of the fastest growing cities in the world and home to a population of 14 million people.
Society and culture
India is a
pluralistic
(a social system based on mutual respect for each other's cultures among various groups that make up a society)
, multilingual and multiethnic society. It is also home to a diversity of wildlife in a variety of protected
habitats
(a specific place or natural conditions in which a plant or animal lives)
.
Population
With an estimated population of 1.2 billion, India is the world's second most populous country. The last 50 years have seen a rapid increase in population due to medical
advances
(progress, enhancement)
and massive increase in agricultural productivity. India's median age is 24.9, and the population growth rate is of 1.38% per annum. Although there are many large cities, more than 70% of India's population resides in rural areas.
Languages
India is home to two major
linguistic
(pertaining to a language)
families: Indo-Aryan (spoken by about 74% of the population) and Dravidian (spoken by about 24%). Neither the Constitution of India, nor any Indian law defines any national language. Hindi, with the largest number of speakers, is the official language of the union. English is used extensively in business and administration. It is also important in education.
Religion
As per the 2001 census, over 800 million Indians (80.5%) were Hindu. Other religious groups include Muslims (13.4%), Christians (2.3%), Sikhs (1.9%), Buddhists (0.8%), Jains (0.4%), Jews, Zoroastrians and Bahá'ís.
Tribals
(a socially, ethnically, and politically cohesive group of people)
constitute 8.1% of the population. India has the third-highest Muslim population in the world.
Government and politics
India is a
federation
(an array of nations or states that are unified under one central authority)
with a parliamentary form of government, governed under the Constitution of India. It is a constitutional republic and representative democracy. The government is regulated by a
checks and balances
(a system for multiple parties wherein each has some control over the actions of each of the others)
defined by Indian Constitution, which serves as the country's supreme legal document. The President of India is the head of state elected indirectly by an electoral college. The Prime Minister is the head of government and exercises most executive power.
Economy
The country ranks 139th in nominal
GDP
per capita. With an average annual
GDP
growth rate of 5.8% for the past two
decades
(a period of ten years)
, India is one of the fastest growing economies in the world. India has the world's second largest
labour force
(the collective group of people who are available for employment)
. The most important sectors in terms of output are the agricultural sector, the service and the industrial sectors. Major agricultural products include rice, wheat, oilseed, cotton, jute, tea, sugarcane, potatoes, cattle, water buffalo, sheep, goats, poultry and fish. Major industries include textiles, telecommunications, chemicals, food processing, steel, transport equipment, cement, mining, petroleum, machinery and software.
Quelle: http://www.englisch-lernen-online.de/bereiche/landeskunde/englischsprachige-laender/indien-india/
---
Lernportal Tour
Lerne die wichtigsten Bereiche des Lernportals kennen
Tour starten
Lerninhalte für:
Lern-Ratgeber:
Wirke mit
Nutze das
Kontaktformular
für Vorschläge und Kritik, oder um technische oder inhaltliche Fehler zu melden.
---