Take a look at the map below. Sydney! Do you know where it is located on the globe?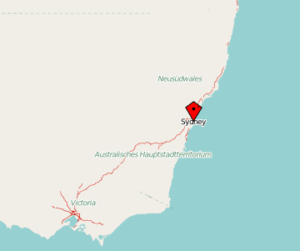 Now before you watch the video, make yourself familiar with the vocabulary in the list below. Use the vocabulary trainer to practise them, if you want to!
Wörterliste: travelling, sightseeing
Wort und Defintion
Wort und Übersetzung
Übersetzung und Definition
While you are watching the video, we want you to take brief notes on the different topics that come up in the video. For example:
If someone talks about a city's university, the school system of it's country and what is famous about it, write down "university" or "education".
In the first exercise you have to bring the list of topics from the video into the right order. Therefore, use the notes you took before!
Now try to answer the following questions. If you don't know the answers, watch the video again. All the answers are in the video!
To finish this unit, play a game of hangman! If you find it too difficult, you should go through the vocabulary list on top of the unit again!