Adventures of Huckleberry Finn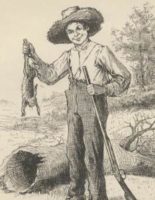 General information
duration: 10 hours (listening time)
niveau: C1
About the materials
Text
The text has been taken from
Project Gutenberg
. There you can also download the whole text.
Please keep in mind that the texts for our audio books are rather old. Therefore they may contain old-fashioned vocabulary with slightly outdated meanings.
Audio Book
The Audio Book has been taken from
Librivox.org
. There you can also download the whole audio book. Many thanks to John Greenman who recorded this audio book.
About the book
"Adventures of Huckleberry Finn" is a novel by Mark Twain. It was first published in England in December 1884 and in the United States in February 1885. The book is commonly named among the Great American Novels. It is among the first in major American literature to be written in American vernacular English, characterised by regionalism. In literature, regionalism refers to literary works that focus on specific features – including characters, dialects, customs, history, and topography – of a particular region. "Adventures of Huckleberry Finn" is especially noted for its colourful description of people and places along the Mississippi River in the US. The language is very challenging because a number of dialects are used in the book: the Missouri negro dialect, the extremest form of the backwoods Southwestern dialect; the ordinary "Pike County" dialect; and four modified varieties of this last. The author says that "The shadings have not been done in a haphazard fashion, or by guesswork; but painstakingly, and with the trustworthy guidance and support of personal familiarity with these several forms of speech." For example, the author always uses "says" (instead of "say" or "said"), no matter which person or tense he would really need to use.
Plot
The story begins in fictional St. Petersburg, Missouri, on the shores of the Mississippi River, sometime between 1835 and 1845. Two young boys, Tom Sawyer and Huckleberry Finn, have each come into a considerable sum of money as a result of their earlier adventures. In the beginning of the story, Tom Sawyer helps Huck escape at night from the house of his guardians. They meet up with Tom's gang and carry out adventurous crimes. Life is changed as Huck's father, a drunkard, suddenly appears. Although Huck can prevent him from taking his money, his father forcibly gains custody of Huck. the two move to the backwoods where Huck is kept locked inside his father's cabin. Because Huck is very unhappy with his life, he escapes from the cabin and sets off down the Mississippi River, where he meets Jim… Listen to the audio book to follow Huck on his journey.
About the author
Mark Twain (November 30, 1835 – April 21, 1910) was an American author and humorist. His real name was Samuel Langhorne Clemens. He achieved great success as a writer and public speaker. His very first publication was a humorous story, The Celebrated Jumping Frog of Calaveras County, which became very popular. Nowadays, he is most noted for his novels, The Adventures of Tom Sawyer (1876), and its sequel, Adventures of Huckleberry Finn (1885). Twain grew up in Hannibal, Missouri, which would later provide the setting for Huckleberry Finn and Tom Sawyer.