Chapter 2: The Pool of Tears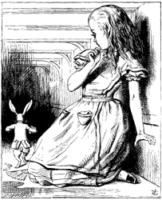 Alice's Adventures in Wonderland by Lewis Carroll. Chapter Two. This is a librivox recording. All librivox recordings are in the public domain. For more information or to find out how to volunteer, please contact librivox.org. Recorded by Peter Yearsley. Alice's Adventures in Wonderland: The Pool of Tears

Alice's Adventures in Wonderland von Lewis Carroll. Kapitel 2. Dies ist eine librivox Aufnahme. Alle librivox Aufnahmen sind frei zugänglich. Für mehr Informationen oder um herauszufinden, wie du dich freiwillig melden kannst, kontaktiere bitte librivox.org. Aufgenommen von Peter Yearsley. Alice's Adventures in Wonderland: Der Tränenpfuhl

'Curiouser and curiouser!' cried Alice (she was so much surprised, that for the moment she quite forgot how to speak good English); 'now I'm opening out like the largest telescope that ever was! Good-bye, feet!' (for when she looked down at her feet, they seemed to be almost out of sight, they were getting so far off). 'Oh, my poor little feet, I wonder who will put on your shoes and stockings for you now, dears? I'm sure I shan't be able! I shall be a great deal too far off to trouble myself about you: you must manage the best way you can;—but I must be kind to them,' thought Alice, 'or perhaps they won't walk the way I want to go! Let me see: I'll give them a new pair of boots every Christmas.'

'Verquerer und verquerer!' rief Alice. (Sie war so überrascht, daß sie im Augenblick ihre eigene SPRACHE GANZ VERGAß.) 'Jetzt werde ich auseinander geschoben wie das längste Teleskop das es je gab! Lebt wohl, Füße!' (Denn als sie auf ihre Füße hinabsah, konnte sie sie kaum mehr zu Gesicht bekommen, so weit fort waren sie schon.) 'O meine armen Füßchen! wer euch wohl nun Schuhe und Strümpfe anziehen wird, meine Besten? denn ich kann es unmöglich tun! Ich bin viel zu weit ab, um mich mit euch abzugeben! ihr müßt sehen, wie ihr fertig werdet. Aber gut muß ich zu ihnen sein,' dachte Alice, 'sonst gehen sie vielleicht nicht, wohin ich gehen möchte. Laß mal sehen: ich will ihnen jeden Weihnachten ein Paar neue Stiefel schenken.'

And she went on planning to herself how she would manage it. 'They must go by the carrier,' she thought; 'and how funny it'll seem, sending presents to one's own feet! And how odd the directions will look!

Und sie dachte sich aus, wie sie das anfangen würde. 'Sie müssen per Fracht gehen,' dachte sie; 'wie drollig es sein wird, seinen eignen Füßen ein Geschenk zu schicken! und wie komisch die Adresse aussehen wird!

ALICE'S RIGHT FOOT, ESQ.
HEARTHRUG,
NEAR THE FENDER,
(WITH ALICE'S LOVE).

AN ALICE'S RECHTEN FUß,
WOHLGEBOREN, FUßTEPPICH,
NICHT WEIT VOM KAMIN,
(MIT ALICE'S GRÜßEN).

Oh dear, what nonsense I'm talking!'

'Oh, was für Unsinn ich schwatze!'

Just then her head struck against the roof of the hall: in fact she was now more than nine feet high, and she at once took up the little golden key and hurried off to the garden door.

Gerade in dem Augenblick stieß sie mit dem Kopf an die Decke: sie war in der Tat über neun Fuß groß. Und sie nahm sogleich den kleinen goldenen Schlüssel auf und rannte nach der Gartentür.

Poor Alice! It was as much as she could do, lying down on one side, to look through into the garden with one eye; but to get through was more hopeless than ever: she sat down and began to cry again.

Arme Alice! das Höchste was sie tun konnte war, auf der Seite liegend, mit einem Auge nach dem Garten hinunterzusehen; aber an Durchgehen war weniger als je zu denken. Sie setzte sich hin und fing wieder an zu weinen.

'You ought to be ashamed of yourself,' said Alice, 'a great girl like you,' (she might well say this), 'to go on crying in this way! Stop this moment, I tell you!' But she went on all the same, shedding gallons of tears, until there was a large pool all round her, about four inches deep and reaching half down the hall.

'Du solltest dich schämen,' sagte Alice, 'solch großes Mädchen' (da hatte sie wohl recht) 'noch so zu weinen! Höre gleich auf, sage ich dir!' Aber sie weinte trotzdem fort, und vergoß Tränen eimerweise, bis sich zuletzt ein großer Pfuhl um sie bildete, ungefähr vier Zoll tief und den halben Corridor lang.

After a time she heard a little pattering of feet in the distance, and she hastily dried her eyes to see what was coming. It was the White Rabbit returning, splendidly dressed, with a pair of white kid gloves in one hand and a large fan in the other: he came trotting along in a great hurry, muttering to himself as he came, 'Oh! the Duchess, the Duchess! Oh! won't she be savage if I've kept her waiting!' Alice felt so desperate that she was ready to ask help of any one; so, when the Rabbit came near her, she began, in a low, timid voice, 'If you please, sir—' The Rabbit started violently, dropped the white kid gloves and the fan, and skurried away into the darkness as hard as he could go.

Nach einem Weilchen hörte sie Schritte in der Entfernung und trocknete schnell ihre Tränen, um zu sehen wer es sei. Es war das weiße Kaninchen, das prachtvoll geputzt zurückkam, mit einem Paar weißen Handschuhen in einer Hand und einen Fächer in der andern. Es trippelte in großer Eile entlang vor sich hin redend: 'Oh! die Herzogin, die Herzogin! die wird mal außer sich sein, wenn ich sie warten lasse!' Alice war so ratlos, daß sie Jeden um Hülfe angerufen hätte. Als das Kaninchen daher in ihre Nähe kam, fing sie mit leiser, schüchterner Stimme an: 'Bitte, lieber Herr. —' Das Kaninchen fuhr zusammen, ließ die weißen Handschuhe und den Fächer fallen und lief davon in die Nacht hinein, so schnell es konnte.

Alice took up the fan and gloves, and, as the hall was very hot, she kept fanning herself all the time she went on talking: 'Dear, dear! How queer everything is to-day! And yesterday things went on just as usual. I wonder if I've been changed in the night? Let me think: was I the same when I got up this morning? I almost think I can remember feeling a little different. But if I'm not the same, the next question is, Who in the world am I? Ah, THAT'S the great puzzle!' And she began thinking over all the children she knew that were of the same age as herself, to see if she could have been changed for any of them.

Alice nahm den Fächer und die Handschuhe auf, und da der Gang sehr heiß war, fächelte sie sich, während sie so zu sich selbst sprach: 'Wunderbar! — wie seltsam heute Alles ist! Und gestern war es ganz wie gewöhnlich. Ob ich wohl in der Nacht umgewechselt worden bin? Laß mal sehen: war ich dieselbe, als ich heute früh aufstand? Es kommt mir fast vor, als hätte ich wie eine Veränderung in mir gefühlt. Aber wenn ich nicht dieselbe bin, dann ist die Frage: wer in aller Welt bin ich? Ja, das ist das Rätsel!' So ging sie in Gedanken alle Kinder ihres Alters durch, die sie kannte, um zu sehen, ob sie in eins davon verwandelt wäre.

'I'm sure I'm not Ada,' she said, 'for her hair goes in such long ringlets, and mine doesn't go in ringlets at all; and I'm sure I can't be Mabel, for I know all sorts of things, and she, oh! she knows such a very little! Besides, SHE'S she, and I'm I, and—oh dear, how puzzling it all is! I'll try if I know all the things I used to know. Let me see: four times five is twelve, and four times six is thirteen, and four times seven is—oh dear! I shall never get to twenty at that rate! However, the Multiplication Table doesn't signify: let's try Geography. London is the capital of Paris, and Paris is the capital of Rome, and Rome—no, THAT'S all wrong, I'm certain! I must have been changed for Mabel! I'll try and say "How doth the little—"' and she crossed her hands on her lap as if she were saying lessons, and began to repeat it, but her voice sounded hoarse and strange, and the words did not come the same as they used to do:—

'Ich bin sicherlich nicht Ida,' sagte sie, 'denn die trägt lange Locken, und mein Haar ist gar nicht lockig; und bestimmt kann ich nicht Clara sein, denn ich weiß eine ganze Menge, und sie, oh! sie weiß so sehr wenig! Außerdem, sie ist sie selbst, und ich bin ich, und, o wie confus es Alles ist! Ich will versuchen, ob ich noch Alles weiß, was ich sonst wußte. Laß sehen: vier mal fünf ist zwölf, und vier mal sechs ist dreizehn, und vier mal sieben ist — o weh! auf die Art komme ich nie bis zwanzig! Aber, das Einmaleins hat nicht so viel zu sagen; ich will Geographie nehmen. London ist die Hauptstadt von Paris, und Paris ist die Hauptstadt von Rom, und Rom — nein, ich wette, das ist Alles falsch! Ich muß in Clara verwandelt sein! Ich will doch einmal sehen, ob ich sagen kann: 'Bei einem Wirte —' und sie faltete sie Hände, als ob sie ihrer Lehrerin hersagte, und fing an; aber ihre Stimme klang rauh und ungewohnt, und die Worte kamen nicht wie sonst: —

'How doth the little crocodile
Improve his shining tail,
And pour the waters of the Nile
On every golden scale!

'Bei einem Wirte, wunderwild, Da war ich jüngst zu Gaste, Ein Bienennest das war sein Schild In einer braunen Tatze.

'How cheerfully he seems to grin,
How neatly spread his claws,
And welcome little fishes in
With gently smiling jaws!'

Es war der grimme Zottelbär, Bei dem ich eingekehret; Mit süßem Honigseim hat er Sich selber wohl genähret!'

'I'm sure those are not the right words,' said poor Alice, and her eyes filled with tears again as she went on, 'I must be Mabel after all, and I shall have to go and live in that poky little house, and have next to no toys to play with, and oh! ever so many lessons to learn! No, I've made up my mind about it; if I'm Mabel, I'll stay down here! It'll be no use their putting their heads down and saying "Come up again, dear!" I shall only look up and say "Who am I then? Tell me that first, and then, if I like being that person, I'll come up: if not, I'll stay down here till I'm somebody else"—but, oh dear!' cried Alice, with a sudden burst of tears, 'I do wish they WOULD put their heads down! I am so VERY tired of being all alone here!'

'Das kommt mir gar nicht richtig vor,' sagte die arme Alice, und Tränen kamen ihr in die Augen, als sie weiter sprach: 'Ich muß doch Clara sein, und ich werde in dem alten kleinen Hause wohnen müssen, und beinah keine Spielsachen zum Spielen haben, und ach! so viel zu lernen! Nein, das habe ich mir vorgenommen: wenn ich Clara bin, will ich hier unten bleiben! Es soll ihnen nichts helfen, wenn sie die Köpfe zusammenstecken und herunter rufen: 'Komm wieder herauf, Herzchen!' Ich will nur hinauf sehen und sprechen: wer bin ich denn? Sagt mir das erst, und dann, wenn ich die Person gern bin, will ich kommen; wo nicht, so will ich hier unten bleiben, bis ich jemand Anderes bin. — Aber o weh!' schluchzte Alice plötzlich auf, 'ich wünschte, sie sähen herunter! Es ist mir so langweilig, hier ganz allein zu sein!'

As she said this she looked down at her hands, and was surprised to see that she had put on one of the Rabbit's little white kid gloves while she was talking. 'How CAN I have done that?' she thought. 'I must be growing small again.' She got up and went to the table to measure herself by it, and found that, as nearly as she could guess, she was now about two feet high, and was going on shrinking rapidly: she soon found out that the cause of this was the fan she was holding, and she dropped it hastily, just in time to avoid shrinking away altogether.

Als sie so sprach, sah sie auf ihre Hände hinab und bemerkte mit Erstaunen, daß sie beim Reden einen von den weißen Glacee-Handschuhen des Kaninchens angezogen hatte. 'Wie habe ich das nur angefangen?' dachte sie. 'Ich muß wieder klein geworden sein.' Sie stand auf, ging nach dem Tische, um sich daran zu messen, und fand, daß sie noch ungefähr zwei Fuß hoch sei, dabei schrumpfte sie noch zusehends ein: sie merkte bald, daß die Ursache davon der Fächer war, den sie hielt; sie warf ihn schnell hin, noch zur rechten Zeit, sich vor gänzlichem Verschwinden zu retten.

'That WAS a narrow escape!' said Alice, a good deal frightened at the sudden change, but very glad to find herself still in existence; 'and now for the garden!' and she ran with all speed back to the little door: but, alas! the little door was shut again, and the little golden key was lying on the glass table as before, 'and things are worse than ever,' thought the poor child, 'for I never was so small as this before, never! And I declare it's too bad, that it is!'

'Das WAR glücklich davon gekommen!' sagte Alice, sehr erschrocken über die plötzliche Veränderung, aber froh, daß sie noch existirte; 'und nun in den Garten!' und sie lief eilig nach der kleinen Tür: aber ach! die kleine Tür war wieder verschlossen und das goldene Schlüsselchen lag auf dem Glastische wie vorher. 'Und es ist schlimmer als je,' dachte das arme Kind, 'denn so klein bin ich noch nie gewesen, nein, nie! Und ich sage, es ist zu schlecht, ist es!'

As she said these words her foot slipped, and in another moment, splash! she was up to her chin in salt water. Her first idea was that she had somehow fallen into the sea, 'and in that case I can go back by railway,' she said to herself. (Alice had been to the seaside once in her life, and had come to the general conclusion, that wherever you go to on the English coast you find a number of bathing machines in the sea, some children digging in the sand with wooden spades, then a row of lodging houses, and behind them a railway station.) However, she soon made out that she was in the pool of tears which she had wept when she was nine feet high.

Wie sie diese Worte sprach, glitt sie aus, und den nächsten Augenblick, platsch! fiel sie bis an's Kinn in Salzwasser. Ihr erster Gedanke war, sie sei in die See gefallen, 'und in dem Fall kann ich mit der Eisenbahn zurückreisen,' sprach sie bei sich. (Alice war einmal in ihrem Leben an der See gewesen und war zu dem allgemeinen Schluß gelangt, daß wo man auch an's Seeufer kommt, man eine Anzahl Bademaschinen im Wasser findet, Kinder, die den Sand mit hölzernen Spaten aufgraben, dann eine Reihe Wohnhäuser und dahinter eine Eisenbahn-Station); doch merkte sie bald, daß sie sich in dem Tränenpfuhl befand, den sie geweint hatte, als sie neun Fuß hoch war.

'I wish I hadn't cried so much!' said Alice, as she swam about, trying to find her way out. 'I shall be punished for it now, I suppose, by being drowned in my own tears! That WILL be a queer thing, to be sure! However, everything is queer to-day.'

'Ich wünschte, ich hätte nicht so sehr geweint!' sagte Alice, als sie umherschwamm und sich herauszuhelfen suchte; 'jetzt werde ich wohl dafür bestraft werden und in meinen eigenen Tränen ertrinken! Das WIRD sonderbar sein, das! Aber Alles ist heut so sonderbar.'

Just then she heard something splashing about in the pool a little way off, and she swam nearer to make out what it was: at first she thought it must be a walrus or hippopotamus, but then she remembered how small she was now, and she soon made out that it was only a mouse that had slipped in like herself.

In dem Augenblicke hörte sie nicht weit davon etwas in dem Pfuhle plätschern, und sie schwamm danach, zu sehen was es sei: erst glaubte sie, es müsse ein Wallroß oder ein Nilpferd sein; dann aber besann sie sich, wie klein sie jetzt war, und merkte bald, daß es nur eine Maus sei, die wie sie hineingefallen war.

'Would it be of any use, now,' thought Alice, 'to speak to this mouse? Everything is so out-of-the-way down here, that I should think very likely it can talk: at any rate, there's no harm in trying.' So she began: 'O Mouse, do you know the way out of this pool? I am very tired of swimming about here, O Mouse!' (Alice thought this must be the right way of speaking to a mouse: she had never done such a thing before, but she remembered having seen in her brother's Latin Grammar, 'A mouse—of a mouse—to a mouse—a mouse—O mouse!') The Mouse looked at her rather inquisitively, and seemed to her to wink with one of its little eyes, but it said nothing.

'Würde es wohl etwas nützen,' dachte Alice, 'diese Maus anzureden? Alles ist so wunderlich hier unten, daß ich glauben möchte, sie kann sprechen; auf jeden Fall habe ich das Fragen umsonst.' Demnach fing sie an: 'O Maus, weißt du, wie man aus diesem Pfuhle gelangt, ich bin von dem Herumschwimmen ganz müde, o Maus!' (Alice dachte, so würde eine Maus richtig angeredet; sie hatte es zwar noch nie getan, aber sie erinnerte sich ganz gut, in ihres Bruders lateinischer Grammatik gelesen zu haben 'Eine Maus — einer Maus — einer Maus — eine Maus — o Maus!') Die Maus sah sie etwas neugierig an und schien ihr mit dem einen Auge zu blinzeln, aber sie sagte nichts.

'Perhaps it doesn't understand English,' thought Alice; 'I daresay it's a French mouse, come over with William the Conqueror.' (For, with all her knowledge of history, Alice had no very clear notion how long ago anything had happened.) So she began again: 'Ou est ma chatte?' which was the first sentence in her French lesson-book. The Mouse gave a sudden leap out of the water, and seemed to quiver all over with fright. 'Oh, I beg your pardon!' cried Alice hastily, afraid that she had hurt the poor animal's feelings. 'I quite forgot you didn't like cats.'

'Vielleicht versteht sie nicht Englisch,' dachte Alice, 'es ist vielleicht eine französische Maus, die mit Wilhelm dem Eroberer herüber gekommen ist' (denn, trotz ihrer Geschichtskenntiß hatte Alice keinen ganz klaren Begriff, wie lange irgend ein Ereigniß her sei). Sie fing also wieder an: '=Où est ma chatte?=' was der erste Satz in ihrem französischen Conversationsbuche war. Die Maus sprang hoch auf aus dem Wasser, und schien vor Angst am ganzen Leibe zu beben. 'O, ich bitte um Verzeihung!' rief Alice schnell, erschrocken, daß sie das arme Tier verletzt habe. 'Ich hatte ganz vergessen, daß Sie Katzen nicht mögen.'

'Not like cats!' cried the Mouse, in a shrill, passionate voice. 'Would YOU like cats if you were me?'

'Katzen nicht mögen!' schrie die Maus mit kreischender, wütender Stimme. 'Würdest du Katzen mögen, wenn du an meiner Stelle wärest?'

'Well, perhaps not,' said Alice in a soothing tone: 'don't be angry about it. And yet I wish I could show you our cat Dinah: I think you'd take a fancy to cats if you could only see her. She is such a dear quiet thing,' Alice went on, half to herself, as she swam lazily about in the pool, 'and she sits purring so nicely by the fire, licking her paws and washing her face—and she is such a nice soft thing to nurse—and she's such a capital one for catching mice—oh, I beg your pardon!' cried Alice again, for this time the Mouse was bristling all over, and she felt certain it must be really offended. 'We won't talk about her any more if you'd rather not.'

'Nein, wohl kaum,' sagte Alice in zuredendem Tone: 'sei nicht mehr böse darüber. Und doch möchte ich dir unsere Katze Dinah zeigen können. Ich glaube, du würdest Geschmack für Katzen bekommen, wenn du sie nur sehen könntest. Sie ist ein so liebes ruhiges Tier,' sprach Alice fort, halb zu sich selbst, wie sie gemütlich im Pfuhle daherschwamm; 'sie sitzt und spinnt so nett beim Feuer, leckt sich die Pfoten und wäscht sich das Schnäuzchen — und sie ist so hübsch weich auf dem Schoß zu haben — und sie ist solch famoser Mäusefänger — oh, ich bitte um Verzeihung!' sagte Alice wieder, denn diesmal sträubte sich das ganze Fell der armen Maus, und Alice dachte, sie müßte sicherlich sehr beleidigt sein. 'Wir wollen nicht mehr davon reden, wenn du es nicht gern hast.'

'We indeed!' cried the Mouse, who was trembling down to the end of his tail. 'As if I would talk on such a subject! Our family always HATED cats: nasty, low, vulgar things! Don't let me hear the name again!'

'Wir, wirklich!' entgegnete die Maus, die bis zur Schwanzspitze zitterte. 'Als ob ich je über solchen Gegenstand spräche! Unsere Familie hat von jeher Katzen verabscheut: häßliche, niedrige, gemeine Dinger! Laß mich ihren Namen nicht wieder hören!'

'I won't indeed!' said Alice, in a great hurry to change the subject of conversation. 'Are you—are you fond—of—of dogs?' The Mouse did not answer, so Alice went on eagerly: 'There is such a nice little dog near our house I should like to show you! A little bright-eyed terrier, you know, with oh, such long curly brown hair! And it'll fetch things when you throw them, and it'll sit up and beg for its dinner, and all sorts of things—I can't remember half of them—and it belongs to a farmer, you know, and he says it's so useful, it's worth a hundred pounds! He says it kills all the rats and—oh dear!' cried Alice in a sorrowful tone, 'I'm afraid I've offended it again!' For the Mouse was swimming away from her as hard as it could go, and making quite a commotion in the pool as it went.

'Nein, gewiß nicht!' sagte Alice, eifrig bemüht, einen andern Gegenstand der Unterhaltung zu suchen. 'Magst du — magst du gern Hunde?' Die Maus antwortete nicht, daher fuhr Alice eifrig fort: 'Es wohnt ein so reizender kleiner Hund nicht weit von unserm Hause. Den möchte ich dir zeigen können! Ein kleiner klaräugiger Wachtelhund, weißt du, ach, mit solch krausem braunen Fell! Und er apportirt Alles, was man ihm hinwirft, und er kann aufrecht stehen und um sein Essen betteln, und so viel Kunststücke — ich kann mich kaum auf die Hälfte besinnen — und er gehört einem Amtmann, weißt du, und er sagt, er ist so nützlich, er ist ihm hundert Pfund wert! Er sagt, er vertilgt alle Ratten und — oh wie dumm!' sagte Alice in reumütigem Tone. 'Ich fürchte, ich habe ihr wieder weh getan!' Denn die Maus schwamm so schnell sie konnte von ihr fort und brachte den Pfuhl dadurch in förmliche Bewegung.

So she called softly after it, 'Mouse dear! Do come back again, and we won't talk about cats or dogs either, if you don't like them!' When the Mouse heard this, it turned round and swam slowly back to her: its face was quite pale (with passion, Alice thought), and it said in a low trembling voice, 'Let us get to the shore, and then I'll tell you my history, and you'll understand why it is I hate cats and dogs.'

Sie rief ihr daher zärtlich nach: 'Liebes Mäuschen! Komm wieder zurück, und wir wollen weder von Katzen noch von Hunden reden, wenn du sie nicht gern hast!' Als die Maus das hörte, wandte sie sich um und schwamm langsam zu ihr zurück; ihr Gesicht war ganz blaß (vor Aerger, dachte Alice), und sie sagte mit leiser, zitternder Stimme: 'Komm mit mir an's Ufer, da will ich dir meine Geschichte erzählen; dann wirst du begreifen, warum ich Katzen und Hunde nicht leiden kann.'

It was high time to go, for the pool was getting quite crowded with the birds and animals that had fallen into it: there were a Duck and a Dodo, a Lory and an Eaglet, and several other curious creatures. Alice led the way, and the whole party swam to the shore.

Es war hohe Zeit sich fortzumachen; denn der Pfuhl begann von allerlei Vögeln und Getier zu wimmeln, die hinein gefallen waren: da war eine Ente und ein Dodo, ein roter Papagei und ein junger Adler, und mehre andere merkwürdige Geschöpfe. Alice führte sie an, und die ganze Gesellschaft schwamm an's Ufer.